When you purchase an A.M. Designs unit set, you can be assured you will receive a quality product that will last for years to come. We use only the best materials and hardware to ensure your set will last. All set pieces comply with UIL guidelines to ensure your safety. A Unit Set is a must-have for OAP and here at A.M. Designs we want to make sure everyone is on a level playing field and we strive to offer our products at an affordable cost.

We have made a few changes to our unit set offerings. We no longer offer canvassed sets, because in our experience the negatives outweigh the positives. As a former tech theatre director, canvas was always the first thing to wear out on a set and make it look shabby on stage and the noise reduction is negligent. Instead of canvassing, we use grade A plywood to give a smooth finish that will last.

Also, we now offer a 20 piece budget set for those who are looking for a deal on the pieces that are used most. The budget set includes 2 - 4'x8' platforms, 2 - 4'x4' platforms, 4 - 1'x1' platforms, 2 - 4' stairs, 2 - 2' stairs, 2 - 4' ramps, 2 - 4' pylons, 2 - 6' pylons, and 2 - 8' pylons.

Thanks to an expanded shop and team at A.M. Designs - we will now offer unit set orders throughout the year. Contact us today to order your set and our new LOWER price!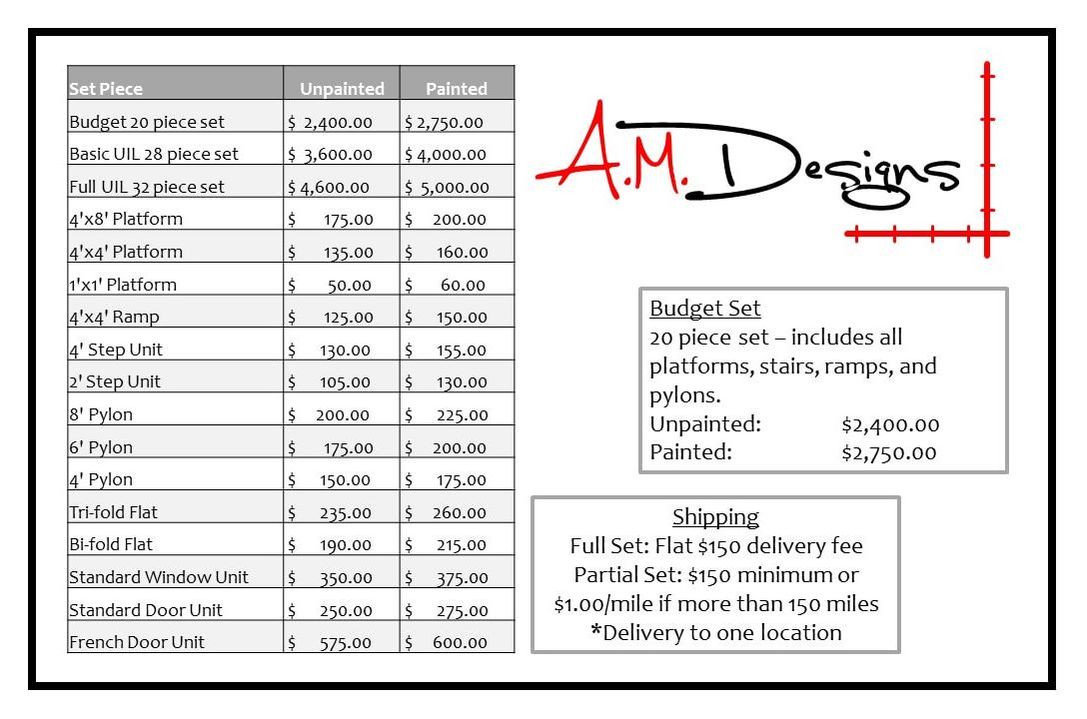 Site powered by Weebly. Managed by
FatCow